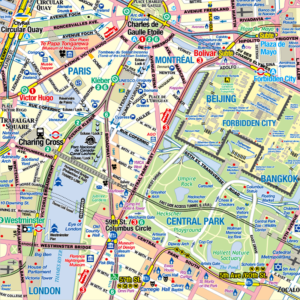 A Lifemap is a unique and personal custom map that creatively combines 10 (or more) favorite locations (anywhere on Earth) to encapsulate someone's life….
Professional Cartographer Andrew Alfred-Duggan can create a personalized Custom Lifemap for you or a loved one featuring 10 (or more) places of personal significance to you (from anywhere on earth) all to be combined on a 11×14-inch high-quality print.
Weddings – Anniversaries – Family Gifts – Holiday – Retirement Gift
A Lifemap makes a unique and personal gift for people close to you.  A custom Lifemap is a very detailed and personal map. Actual individual neighborhoods/locations from ANY place on Earth will be combined for you or your loved one, with as many additional points of interest as you can think of (favourite restaurants, sights, hikes, parks…etc.) If it is important to you, it will be on the map! Contact Andrew with any questions you may have 416-532-0210 ac.oo1516388022hay@p1516388022amefi1516388022l1516388022.
What are people saying about Lifemaps?
How Much Does a Custom Lifemap Cost?
A Custom Lifemap is priced $450, which includes 10 places printed on an 11×14 photo print. Each additional 10 places costs an additional $450. (Please keep in mind that it is quite labour-intensive to "stitch" the locations together.  As the number of map places increase, the maps complexity increases dramatically.)
What Andrew needs to make your map…
10 places of significance – please include a single address or point of interest to act as a focal point of that area. For example:  Roncesvalles Village, Toronto.  (Apt. at 300 Roncesvalles Ave.)  also – Fantail Cafe, Revue Cinema, Gate 403, The Local. Please list your 10 places in ORDER OF IMPORTANCE Thanks.  – email them to me at:  ac.oo1516388022hay@p1516388022amefi1516388022l1516388022 or let's chat 416-532-0210 – cheers.
How do I order a Lifemap?
The best way is to contact Andrew to discuss the locations and points of interest on your map. Email  ac.o1516388022ohay@1516388022pamef1516388022il1516388022or phone 416-532-0210.  If you're ready to go, you can order online, but…
Take me to the Custom Lifemap Options Page ...
Imagine all the places that matter to you or someone you love – the neighborhood where you grew up, the town where you went to university, the trip you took when you met your spouse, where your kids were born – imagine all these places magically sewn together into a single map – a map of your's or someone else's life.
The places can be points of interest, like the building where you work or the monument you visited in Italy.  The places can be urban like the neighborhood in Beijing where you studied for a semester or rural like the lake you swam in as a kid.  A Lifemap records your's or someone's life history in detail, combining major life events and locations into a cartographic celebration featuring your or a loved ones personal milestones.
A Lifemap can celebrate a couple's lifetime together – highlighting their individual paths and their shared experiences on a single map.  Locations can feature each person's individual origins and places they have visited or lived together. Real-world points of interest can include the exact spot they met or the places they work and live. Conceptual points of interest can include birth years of children or parents or dates of important events or interests and hobbies.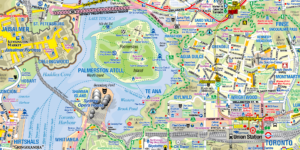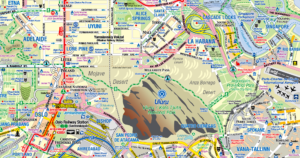 Testimonials – What people are saying about Lifemaps